Five Nights At Thomas 2
Edit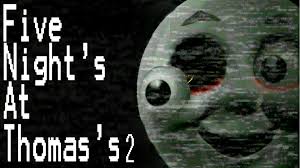 Five Nights At Thomas 2 Is The Second Installment in The Five Nights At Thomas Series
The game was published to Game Jolt on
Feb 4, 2015, By Jfun300
Edit
GamePlay
Edit
The Game Features Brand New Gameplay With Simular Mechanics To The The Original.
The Game Added A Camera System, in the camera system, A new feature allowed the player to refill the coal furnace on the camera instead of manually refilling it
The Game added 3 ways the trains could come in instead of one
This Is The Teaser Trailer For Five Nights At Thomas 2
Animitronics/Trains
Edit
If your door is closed and any of the trains are at the doors. When you flash your light on the doors they will appear darker when if there are no trains at the door it will be brighter
Discription
Edit
Welcome to the new Thomas's Pizza Railway! We now have more trains, doors cameras, pizzas, Thomas's, ect. We have also relocated to Canada after some "incide
nts" at the old location. But at least pizza is now only $4.99! Also PRO TIP TIMES! The trains bang on the door when the leave! Also the camera cuts out for a second when one moves.
Other Games In The Series
Edit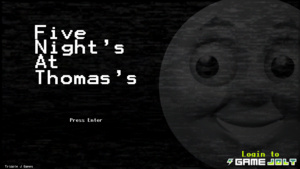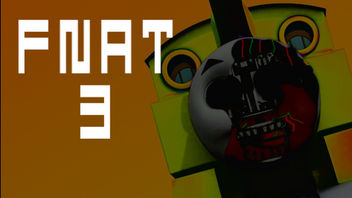 Cancelled Games
Edit