Five Nights At Thomas
Edit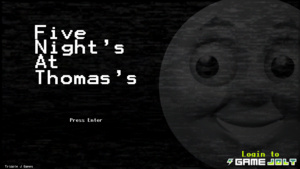 Five Nights At Thomas Is A Five Nights At Freddy's Fangame The Game Was Published To Gamejolt on
Jan 9, 2015, By Jfun300
Edit
The Game was noticed later on After YouTubers like RiskRim Started Playing The Game
The Game Features Simple Gameplay. Flashing Your Flashlight, Putting coal in a furnace and closing the doors if Thomas The Tank Engine Is there.
Gameplay Footage
Edit
Here is some gameplay footage from the developer of FNAT
Game Description
Edit
Thomas's Pizza Railway is a magical place where you can enjoy a delicious pizza (for only 5.99) And they're looking for someone to work the night shift and put coal in a furnace so they don't run out of power or something. Equipped with only a flashlight you must survive FIVE NIGHTS AT THOMAS!
Animitronics/Train
Edit
If you have closed the door and flash your light while Thomas is there. The light will be darker then if Thomas is not there and your door is closed
Other Games In The Series
Edit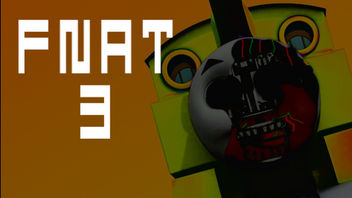 Cancelled Games
Edit