Five Nights At Thomas 3
Edit
Five Nights At Thomas 3 is the third game i the FNAT series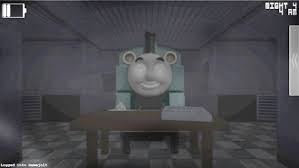 The Game was published to gamejolt on
Mar 17, 2015 by Jfun300
Edit
Interface
Edit
With the new interface, the game felt more like a five nights at Freddy fangame
Game Mechanics
Edit
If any of the trains come in one of the hallways. The player has to shine their light for a bit to get them to go away while also not letting the coal generator overheat.
The Game Features Five nights with an extra sixth night. After that though there is no custom night.
Animitronics/Trains
Edit
Sightly Withered Thomas
Majorly Withered Thomas
Percy
James
Easter Eggs
Edit
Sir Thopom Hat, He appears randomly to some lucky players. He appears to look a bit like the marionet
Discription
Edit
Welcome to the newest location of Thomas's Pizza Railway! This new loacation is now owned and operated by a man named Chuck. Its been about 2 years and 1 day since the old location closed. Technically its not a new location they just took the old location and gave it a MAKEOVER :D! Anyways nobody can understand what Chuck is saying so people don't know how much the pizza costs.
Ad blocker interference detected!
Wikia is a free-to-use site that makes money from advertising. We have a modified experience for viewers using ad blockers

Wikia is not accessible if you've made further modifications. Remove the custom ad blocker rule(s) and the page will load as expected.